Due to unforeseen circumstances, we are only offering small animal shows from May 1, to November 1, with the exception of Elgin Days and the Lansdowne Fair.
We plan to be back in full service capacity in 2017, and hope you'll bear with us as we make these changes in 2016.
Please continue to consider us for your 2017 events, and come see our full petting zoo in Elgin on July 9th, and at the Lansdowne Fair, July 15-17.

Petting Zoo
Fur, Feathers and Fins Agricultural Petting Zoo can provide your event with some great children's entertainment. We started out in the late nineties at the Leeds County Plowing match, telling Bible stories and doing face painting and games with the children. As time went on, we started bringing a few animals and realized that they attracted all ages, not just the kids. From there, our petting zoo has grown and we have been part of many different events.
Our petting zoo animals are specially selected from the cattle and goat herds and sheep flock on our working farm. Some animals find traveling stressful, so we only select ones that enjoy meeting people and adapt well to new locations.
We make most of our living milking dairy cattle, but we also raise many other animals. Because all are petting zoo animals are also working livestock, we don't allow people to hand feed them.
All of our animals are safe and friendly and stay in a secure, clean, enclosure, though sometimes we will take them on walks to meet with the people. Our goal is to teach the public where their food comes from and give them a better sense of what Canadian Agriculture really is.
We are fully insured and have years of experience working with the public. We always strive to provide education as well as entertainment so people learn something about our animals while they enjoy seeing them.
We are available for birthday parties! You choose the animals you want us to bring! We are educational and always able to teach about the animals we bring. We can also visit classrooms.
New for 2015: The Rabbit Athletes Magic Pets Show. We are booking for fairs and festivals who would like a great children's entertainment performance. We have rabbit hopping, magic tricks and more. The show is educational and tons of fun!
Birthday Party Packages:
Regular Petting Zoo: This package includes sheep, goats, rabbits, miniature horse (too small to ride) and some kind of poultry. Rate is $200 for a length of time (dependent on the time of year). Travel to Kingston, Brockville or Smith's Falls areas is included. In 2016, the full petting zoo is not available from May 1-November 1. We apologize for the inconvenience, and hope to be fully available in 2017 and hope you'll consider us for your 2017 events. 

Mini Petting Zoo: Rabbits, guinea pig and your choice of sheep or goat, and duck or chicken. Rate is $100.
Magic Pets Show:  Price is based on number of shows and travel distance.
Thanks to the following organizations for inviting us to their events in the past!
* Loyalist Township Come Out and Play

* Lansdowne Fair Education Barn

* Leeds County Ploughing Match

* Lyndhurst Turkey Fair 
* Bethel Pentecostal Church
* Pine Grove Community Church
* Movies Under the Stars
* Frontenac Mall
* Westport Heritage Festival
* Seeley's Bay Canada Day Commitee
* Brockville Farmers Market
* Cedarview Alliance Church
* Spencerville Country Christmas
Need more information?
Contact us!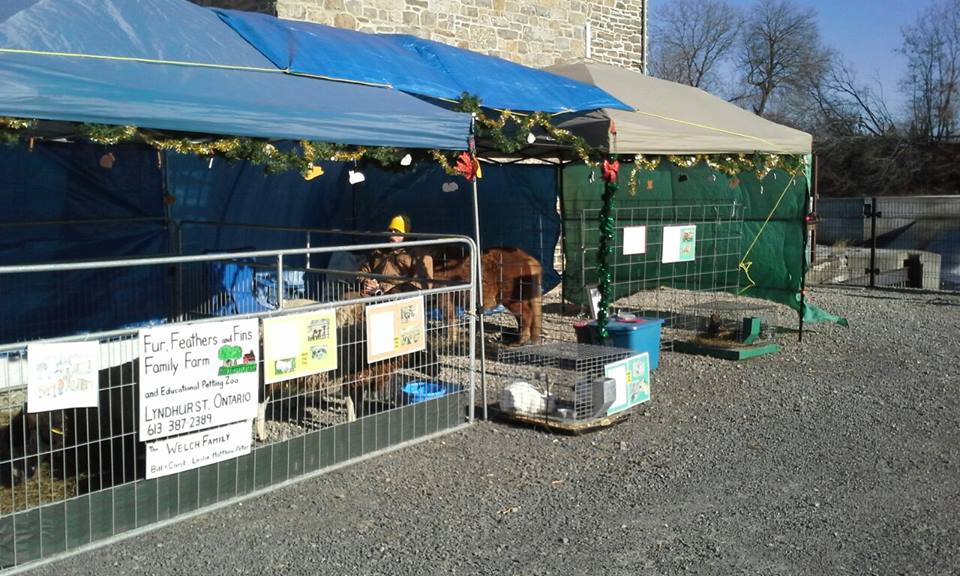 Fur Feathers and Fins on Facebook