Rabbits at Fur, Feathers and Fins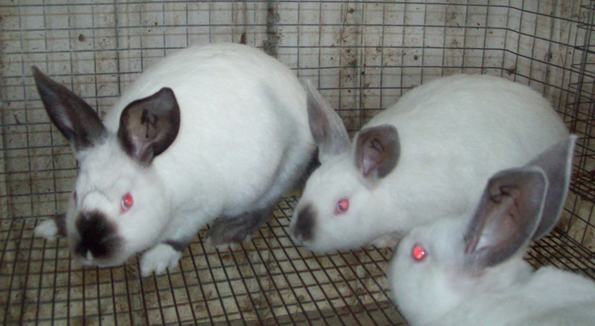 Rabbits are a big part of our operation here at Fur, Feathers and Fins. We raise them primarily for meat, but we also have commercial breeding stock available, and some rabbits available for pets.
We usually have litters available for sale year round. We specialize in New Zealand Whites, Reds and Brokens (if your not familiar with rabbit terminology, 'Broken' means a solid color mixed with white, or in simple terms, a spotted rabbit), Californians, and American Chinchillas. We also have a few Standard Rex and crossbreds suitable for rabbit hopping.
We sell individual pet rabbits, single breeding rabbits, or breeding trios. Most common are 8-12 week old rabbits weighing 5-7lbs, but we sometimes have breeding age does, and bred does available. Some of the rabbits have partial pedigrees.
Pricing for breeding stock and pets vary according to age and quality. Check out some of our baby Californians at 10 days old, still in the nestbox.
Let us know what you're looking for and we'll try to accommodate you!
Or visit http://www.rabbitbreeders.ca/ if you are looking for a breed we don't have.

We show at our local fair and have won Grand Champion Rabbit a number of times. We have also showed at the Royal Winter Fair in both the Youth and Open divisions. We won Best of Show and Reserve Best of Show in 2014 with an American Chinchilla Doe and Buck. The same year, we also won Reserve Best of Breed for a Red New Zealand Buck.
We have taken a few years off from showing, but returned to the show table in 2016. We purchased an American Chinchilla Buck at the New York State Rabbit and Cavy Breeders Convention show where he was BOS in his show. We are excited to be showing again and are hoping for a great 2017.
We take our Rabbit Athletes: Rabbit Hopping Show, on the road to fairs and festivals. You may have already seen us performing at some of our regular petting zoo events, but this is bigger and better than ever! Contact us through our petting zoo page if you'd like info on how you can get a fast paced, rabbit agility event at your venue. Watch our 2015 promotional video here
Fur Feathers and Fins on Facebook